The Girls of Great Britain and Ireland tiara
Queen Elizabeth II wearing The Girls of Great Britain and Ireland tiara
These are just some of the 10,000 diamonds present at the Diamonds: A Jubilee Celebration exhibition at Buckingham Palace. Many jewels on display will be from the Queen's personal collection, as well as several pieces of historical importance from the Royal Collection. The exhibition will run from June 30 to July 8, and then again from July 31 to October 7.
Queen Victoria's Diamond Necklace and Drop Earrings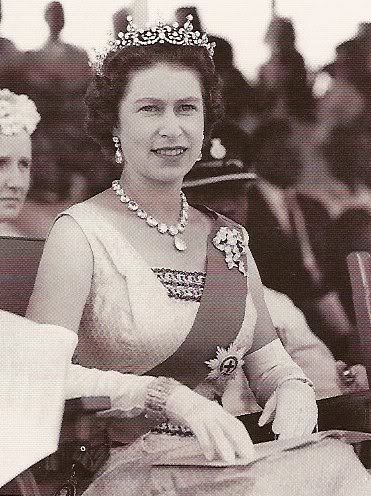 Queen Elizabeth II wearing Queen Victoria's diamond necklace and earrings
Cullinan III and IV brooch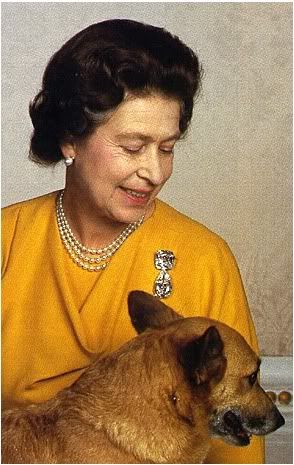 Queen Elizabeth II wearing the Cullinan III and IV brooch
Some of the history behind the jewels in this post:
The Girls of Great Britain and Ireland tiara was gifted to the future Queen Mary as a wedding present by a committee of ladies headed by Lady Eve Greville in 1893. The ladies purchased the tiara from Garrard and gave the remainder of the money raised to charity. Originally the tiara had pearls on the nine spokes, but Queen Mary remodeled the tiara and replaced the pearls with diamonds. The tiara also has a removable diamond bandeau as a base. This is one of my favorite tiaras, it's delicate and yet extremely regale. It is also one of her Majesty's favorites, many have suggested it is because of its light weight.
Queen Victoria's diamond necklace and drop earrings were commissioned by Queen Victoria from the same jeweler as above, Garrard, in 1858. These pieces were re-made and re-made again after the Queen lost Queen Charlotte's diamonds and had to give back the original stones. The settings and diamonds were replaces from various other pieces in Queen Victoria's collection. None the less, the final setting is spectacular.
Cullinan diamond collection: The Cullinan diamond was the largest rough diamond ever found at 3,106.75 carats. The diamond was then cut into many magnificent polished stones, the largest being Cullinan I (530.4 carats) currently mounted in the Sceptre with the Cross. The stones were gifted to King Edward VII on his birthday. In 1911, Queen Mary mounted the Cullinan III (94.4 carat) and IV (63.6 carat) into a tiara; however the tiara was remodeled with other stones and these diamond could be used as pendants or hooked together and worn as a brooch (its most often seen incarnation). How could you not love a diamond the size of your fist? Honestly.